Devolarium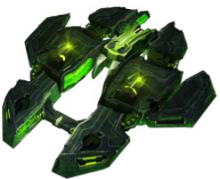 Devolarium are the lowest level of capital alien ships. These green alien ships offer great rewards at a high price. Because of their relatively high HP, shields, and damage, it is recommended that these be attacked in teams for newer players, although it can be defeated by Sub-Elite Players . For tips in fighting in teams, see our Tips section..
Locations
Devolariums are located in:
For the X-3 maps, be careful. There are more Devolariums than Sibelons compared to X-4, so you will encounter these ships more often than Sibelons
Cargo Drop
Trivia
The speed of Devolariums used to be 150, but it was increased to 200 in the February 2012 update.
Although the strength of a Devolarium is comparable to one quarter that of a Kristallon, you would need to kill eight of these to get as many rewards.