EMP-01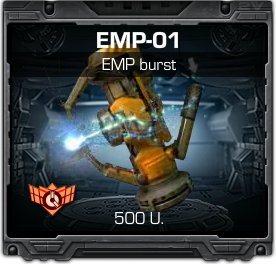 Official Description
The EMP burst will release an electromagnetic impulse wave to temporarily short-circuit your enemies' onboard instruments and disable their targeting devices. If you're really lucky, the burst will also uncloak them, allowing you to shoot them out of the sky like birds.
Overview
[
]
EMP-01 (EMP Burst) is an elite ammunition insta-mine. It is available anytime at Shop, Assembly and can be sometimes received from Pirate Booty.
Obtaining
[
]
Damage
[
]
Type: Splash & EMP.
Damage: 0.

The targets can only be players: allied or enemy.
Trivia
[
]
Its' usage is mainly to avoid getting killed and to run away.

A dirty and annoying combo is to use EMP-01, cloak and put down a SL-M01. You will surely trigger the person that tried so hard to kill you.

As an insta-mine, the mine is detonated instantly and only requires you to use it.
Gallery
[
]