Hitac-Minion

Overview
Edit
A Hitac-Minion is a small alien that protects the Hitac-Mothership which must be destroyed first before attacking the mothership.
You can only kill them in larger groups because of the heavy damage they do and the large amount of speed they have.
They deal moderate damage so caution is needed.
It gives very high rewards so it's worth doing.
However, credit rewards are low.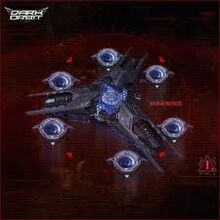 The Hitac Minions with the Mothership.
Similar to the Barracuda, they will self-destruct at low health for around 100,000 damage.